At Decor Trendz, we offer the best vacant home staging service that beautifully attracts potential buyers. Our experts plan everything properly and highlight each quality of the property so that buyers can get connected with it. With years of experience and dedication to providing the best to our customers, we add a touch of elegance and style to every property we work with. Our professional team knows how to offer the best service under budget, so you will be completely happy with us. We are committed to offering a service that will please buyers every time. 
Elevate Your Property With Expert Vacant Home Staging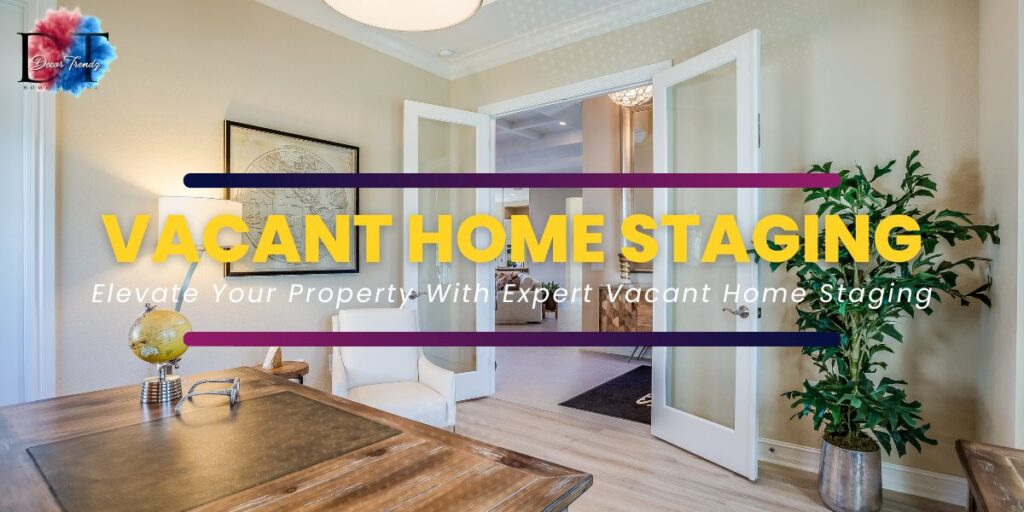 Our Process for Staging Vacant Homes
We believe in offering the best to our customers, so we follow a completely planned and structured process. Have a look at our vacant home staging procedure: 
Consultation
:
We start by conducting a thorough consultation during which we assess the target market, architectural style, and layout of the property. Because we pay great attention to the smaller things, we can create a Seattle home staging strategy that improves the appeal of the house.
Customized Design:
Our talented professionals follow a unique staging concept that enhances the features of the home and the tastes of prospective buyers. We pay proper attention to selecting the right furniture, home accessories, and other decorating belongings so that home selling flows smoothly.  
Furniture Selection:
From a large selection of fine furniture, we pick items that enhance the property's design and enhance its aesthetic appeal. Our variety appeals to a wide range of preferences, ranging from classic and conventional to modern and contemporary.
Installation of the Staging
:
To best display the possibilities of the property, our skilled staging crew carefully positions each item of furniture and décor. We purposefully draw attention to essential places so that prospective purchasers might picture themselves residing there.

Final Touch
:
Our team adds the finishing touches that turn a vacant property into a warm and welcoming home, from artwork and carpets to lighting and accessories. Our focus on the little things makes sure that every space offers comfort and elegance.
Why Use Our Service for Staging Vacant Homes?
Market Knowledge:
Since we have been in this industry for many years, we are well-versed in the regional real estate industry. Our staging tactics are specifically designed to appeal to Seattle's varied buyer population.
Strategic Design:
Our designs don't only look good; they are also carefully developed to draw attention to the property's assets and downplay its flaws, increasing its marketability. 
Rapid Response:
We are aware of the urgency in the real estate market. Our quick vacant home staging service procedure guarantees that your home is ready for the market in no time, assisting you in making a quick sale.
Results That Have Been Demonstrated:
The increased attention that our staged homes routinely receive leads to quicker sales and higher selling prices. Our track record speaks for itself in terms of success.
When you work with the best and most dedicated team of professionals for vacant house staging, you make a decision to enhance the attractiveness and raise the market value of your home. Let Decor Trendz make your vacant home the ideal place to live for a buyer. To arrange a consultation and begin the process of a successful sale, get in touch with us right now.
Unlock the Magic of Homeliness with Our Vacant Home Staging Service
With our vacant home staging service, you can unlock the magic of homeliness. A properly decorated and well-organized home is loved by everyone, and we excel at doing that. We are experienced in making a space more lifelike by placing the right furniture in an unoccupied home. Our professionals pay close attention to every little thing and ensure that buyers get the complete comfort and functionality that they are looking for in their new home. Our method turns Seattle home staging into places where memories are just waiting to be formed, from appealing dining areas to cozier bedrooms. Contact the best professionals to make sure your home stands out in the property market.
We Offer Full-Service Vacant Home Staging Service
We offer full-service vacant home staging integrated with cutting-edge design and decoration along with market-savvy techniques so that potential buyers are attracted to that. Our professionals ensure that every corner is highlighted by decorating it with specified accessories. We make use of perfect furniture that best compliments the home and present that in a more aesthetic manner so that it can add a more appealing appearance to the home. The impression will be long-lasting with the buyer. With years of experience in this industry, we provide complete satisfaction to our customers. 
Also read "How To Stage a Vacant House"